If you have purchased any of the Rotorazer Regular or Platinum Models, you can register your warranty below. All models are warranted to be free from manufacturing defects in materials and workmanship for one year from the original purchase date. Should the product have a defect in materials or workmanship, we will repair or replace it without charge to you (a shipping and processing fee will apply).
This warranty does not cover damage caused by accident, misuse or any use other than as intended and described in this product manual, or damage resulting from failure to maintain and clean this product as specified in this product manual. This warranty applies only to the original purchaser of the Rotorazer Saw®.
ALL EXPRESS AND IMPLIED WARRANTIES FOR THIS PRODUCT, INCLUDING IMPLIED WARRANTIES OF MERCHANTABILITY FOR A PARTICULAR PURPOSE, ARE LIMITED IN DURATION TO THE WARRANTY PERIOD, AND NO WARRANTIES, WHETHER EXPRESS OR IMPLIED, WILL APPLY AFTER THIS PERIOD.
Some states do not allow limitations on the duration of implied warranties, so the above limitation may not apply to you. While this warranty gives you specific legal rights, you may also have other rights which may vary from state to state.
Please register your product:
If for any reason you need to contact customer service about your warranty, you can contact us via US mail, email or telephone:
Razer Tools, LLC
1392 Sarah Place Suite B
Ontario, CA 91761
800.220.7975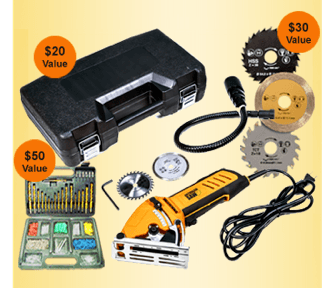 Get your Free Upgrade to the 2020 Rotorazer Model as part of our introductory launch!
No additional charges apply,
our FREE gift to you!